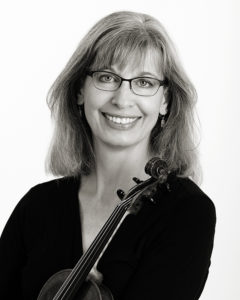 Karen Pring has had a life-long passion for playing the violin. She began taking lessons at the age of nine and has enjoyed playing in orchestras, small groups and as a solo performer ever since. She loves working with students and maintains a growing violin studio in Superior.
She was actively involved in music throughout her college years continuing her studies with Marcia Henry Liebenow and Walter Olivares and performing as a member of the Missoula Symphony, Glacier Symphony Orchestra and the University of Montana Orchestra. For the past 32 years, she has been a first violinist with the Jefferson Symphony Orchestra and has served as the JSO Marketing Chair for many years. She also often plays for church services as a soloist and in small ensembles. She has enjoyed many special performances over the years including events with Amy Grant, Art Garfunkel, Smokey Robinson and Doc Severinsen.
She has completed a Suzuki Violin Pedagogy Certificate graduate program at the University of Denver's Lamont School of Music which included comprehensive training in Suzuki Books 1-8. She also completed SAA registered training in Suzuki Violin Books 9 and 10 studying with Kathleen Spring in an international study abroad trip to Vienna, Austria. She has done additional pedagogical training with Beth Cantrell, Charles Krigbaum, Edward Krietman, Kimberly Meier-Sims, Ann Montzka-Smelser, Stephen Sims, William Starr and Crystal Plohman Wiegman including the courses Suzuki Principals in Action, Musicality from the Beginning and Supplementary Repertoire for Books 6-8 as well as others. She has also enjoyed violin studies with Margaret Gutierrez.
Karen feels privileged to have had both of her daughters start violin lessons at an early age through the BSS program and continue through their high school years. Both girls have developed a love of the violin that has carried into their college years. Karen has traveled with the Boulder Suzuki Strings Tour Group to Costa Rica in 2014, 2016 and 2018. By being her daughters' "at-home" teacher, she has gained a great deal of insight into the many benefits and occasional challenges involved in having a child learn the violin.
Karen also enjoys photography, hiking, biking and tap dancing.