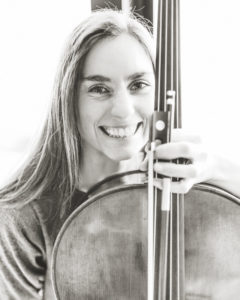 A native of Iowa City, Iowa, Psyche Cassandra Dunkhase is a dynamic and dedicated cellist and cello teacher. With 20 years of experience performing and teaching, Psyche is committed to providing unique musical experiences that inspire creativity, nurture self-expression and spark imagination.
Psyche holds a Master of Music in cello performance from the University of Colorado at Boulder where she studied with Judith Glyde and a Bachelor of Arts in music from Wesleyan University in Middletown, Connecticut where she studied with Dr. Jason Duckles. Psyche has completed her Suzuki training with teacher trainers including Tanya Carey, Avi Friedlander, and Pam Devenport. She is registered with the SAA for Cello Books 1-10, a Practicum and a myriad of supplemental courses including Revisiting Book 1, Beyond Book 10 and Improvisation.
Psyche has been on faculty at Boulder Suzuki Strings since 2010 and teaches lessons both in Boulder and Lafayette.
She has performed in venues including Red Rocks Amphitheater and the Boulder Theater and has collaborated with artists including The Lumineers and Esme Patterson. In addition to teaching and performing, Psyche enjoys spending time with her wife in their mountain permaculture home, volunteering annually in Huehuetenango, Guatemala, and playing electric bass in the band The Frets.